2019 Summer Recital Information
Who Will Participate in Our Recital?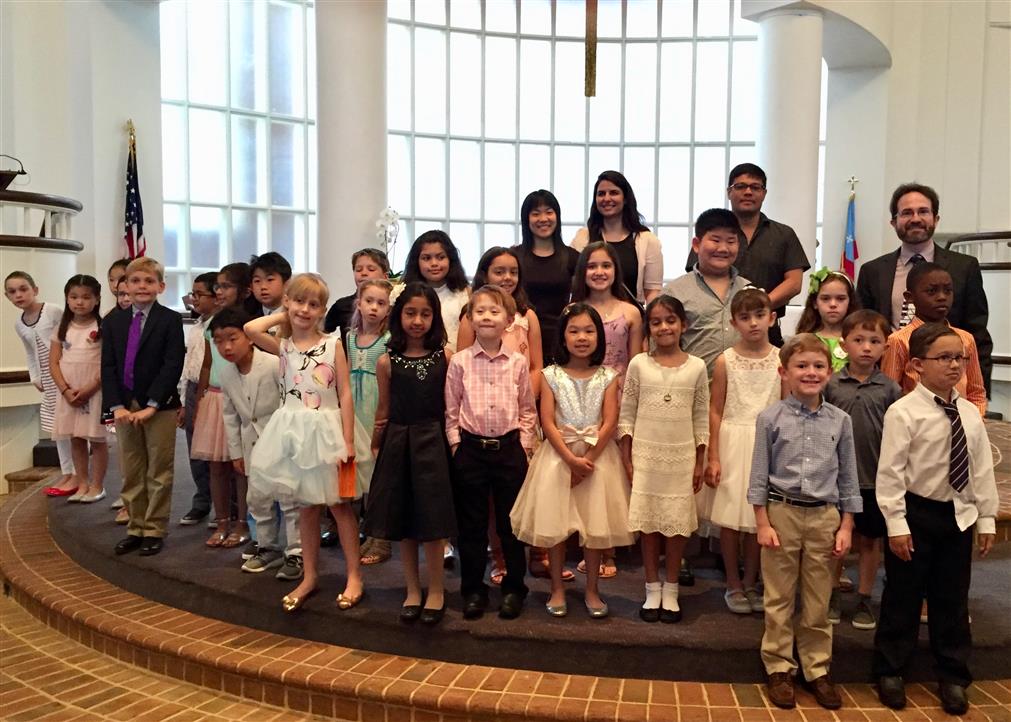 Participation is required for all youth age 6+ who began lessons before January 1, 2019. Students who began lessons after January 1 may participate with teacher's recommendation if space is available.
Where Is It? How Long Will It Last?
The recital will be divided into five groups by age, and these groups will perform on June 8th and 9th at The Falls Church Episcopal. Performance times are Sunday at 2:30 and 4:00 and Saturday at 3:00, 5:00, and 7:00. On Sunday, Bright Starts Classes and some students grades PK-3 will play at 2:30; grades 1 through 4 will play at 4:00. On Saturday, grades 5 to 7 will play at 3:00; grades 6 to 8 will play at 5:00; high school will play at 7:00. All age groups are approximate and we schedule by assignment, not by sign-up. Time assignments have been posted at the Studio and emailed to parents.
Are There Any Rehearsals?
There are required rehearsals for all students except Bright Starts classes. Rehearsals will be at the Studio in Falls Church May 31, June 1 or 2. Rehearsals are scheduled by online sign-up. (Find the sign-up from For Our Students in the menu.) Students playing duets must attend a rehearsal together with their partner(s). Students must perform their recital piece(s) from memory at a rehearsal in order to perform in the recital.
Time Change Requests
We carefully group the recital by age and level. Limited opportunities for time changes may be possible up until May 15. If you need a time change, please ask as soon as you are aware of the need. Your understanding that not all requests can be accommodated is appreciated.
Who Can Come?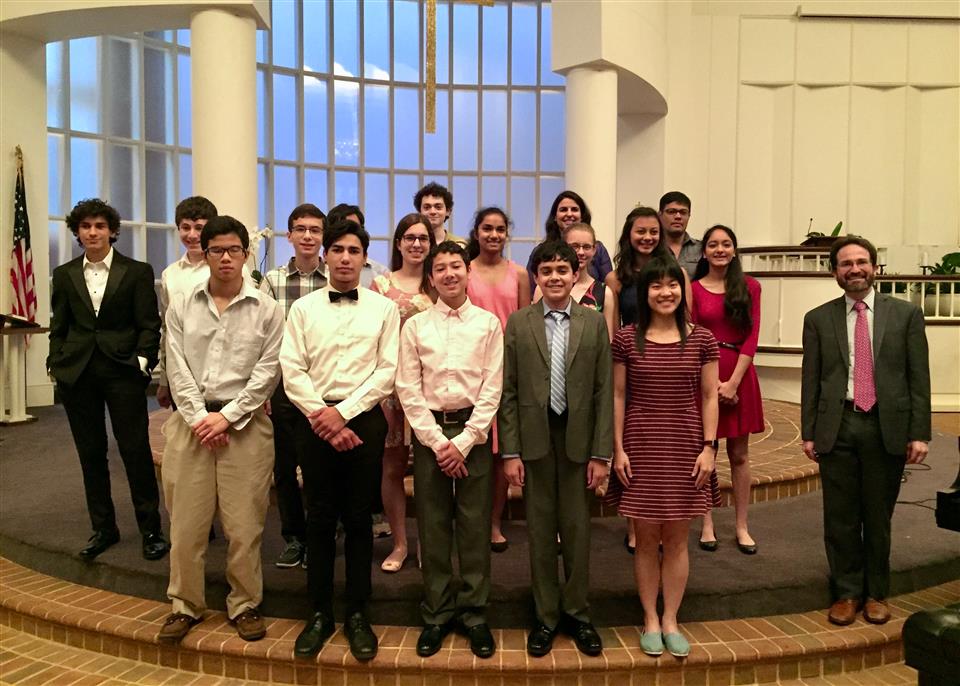 Everyone is invited and encouraged to attend. Parents, siblings, grandparents, and friends are all welcome. You won't regret inviting guests.
What's the Point?
We have a recital as the culminating event in our year of study.
We experience performing as opposed to just practicing.
We share music with our parents, family, and friends.
We learn confidence and independence as each of us presents music without help or prompting.
We engage in teamwork and create an event that is more meaningful than just the sum of its individual performances.
We put on a good show and enjoy the satisfaction that comes from presenting a performance that is complete and enjoyable in its entirety.
---
Repertoire Selection Guidelines
Your Solo Piece
Most students will play one solo piece from memory. Because we want the recital to be a positive experience for both our performers and their audience, we require that all pieces be fully memorized and fully ready for performance at the required rehearsal. Students who choose to fully prepare two pieces may play both pieces. Our youngest students who may not be comfortable performing solo may instead play a duet with an older student playing the "teacher accompaniment."
Your Duet
Some students will also play a duet with music. Duets will be performed either with a student of similar ability or with an older student playing the teacher's accompaniment part. Duets are optional but encouraged. Please discuss with your teacher whether it would be a good idea for you to play a duet, and if so, what duets might be suitable.
You Can Choose to Play Most Anything That Is in Its Original Form...
That is, something originally written for piano solo.* Jazz-style pieces are welcome if they are in original form. There are no requirements regarding level, length, or difficulty. But whatever you play should present well to the audience and should make you proud of your accomplishment!
What Can You NOT Play in Our Recital?
Nothing that was performed at our 2017 or 2018 recitals, and nothing that someone else is playing at the 2019 recital. (First come, first served once your teacher puts it in the database.) No arrangements of movie, musicals, or pop songs; no simplified classics or arrangements of orchestral works. *The following are acceptable: concert transcriptions; composer-initiated arrangements; elementary folk-song arrangements; authentic jazz standards. To encourage educational progress, we discourage you from choosing music that's too old (typically we aim to start recital pieces after January 1st) or too easy (pieces that can be learned in two weeks or less). We will also avoid pieces that are too difficult for you to achieve a complete performance. Presenting your best means you aren't stumbling through something that's too challenging.
It's the Teacher's Job to Help You Choose
Your teacher will happily welcome your questions and requests! Now is the time to plan for a successful and enjoyable recital!