Introducing the 40 Piece Challenge: Background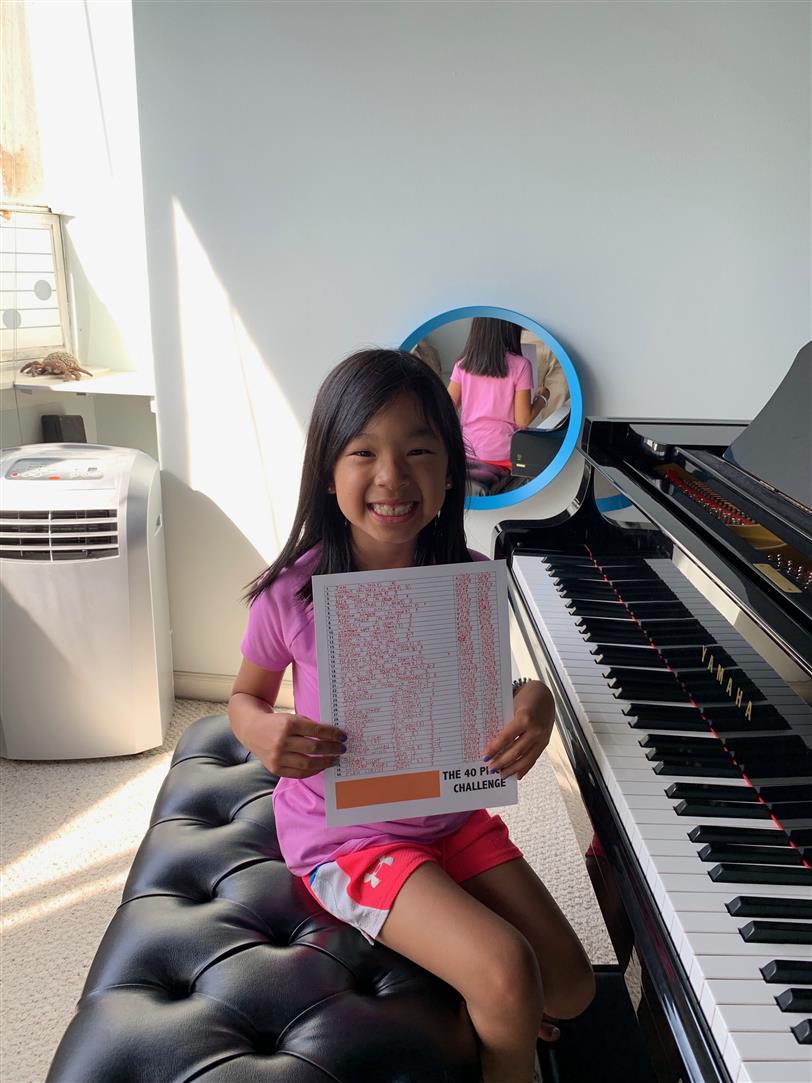 You won't become a competent English reader if each year you learn to read and recite just a few poems each year. Likewise, you won't become a competent and well-rounded pianist—and you won't have the skill to play on your own after your lessons have ended—if you learn just a few recital pieces each year. The phrase "40 piece challenge" was coined by the Australian piano teacher Elisa Milne. In 2018-19 we offered the Challenge to a few students for the first time. Eight students attempted the challenge and five of these finished it; two others came close. 2019-20 was our second year, and despite the disruption caused by the pandemic, we still had several students complete the challenge.
The Challenge
Learn 40 pieces to completion between June and May. Pieces must be started after the summer recital (early/mid June) and completed before Memorial Day.
Completion Means
♪ First steps
♪ Appropriate tempo
♪ Expressive basics
♪ Memorization is not required
Definitions
♩First steps: notes, rhythm, fingering, articulation.
♩Appropriate tempo: playing at the composer/editor suggested tempo with good steadiness and continuity; or, another musically appropriate tempo.
♩Expressive basics: always includes dynamics. Often, balance, pedal and phrasing require attention as well. Less commonly, voicing and more advanced concepts need to be addressed.
Celebrating Success
When a piece is completed, we'll celebrate your success! Often, we'll make an audio or video recording or play along with an accompaniment track. We'll record your progress in a chart. Students who complete the challenge will receive a lovely certificate.
What Counts?
Almost anything that sounds like a piece counts. Recital and festival pieces do count, but in order to meet the 40 pieces goal, most pieces will need to be easier than typical recital/festival/competition pieces.
What Doesn't Count?
Completing pieces that require no real attention or that have no learning objective won't improve your skill! With this in mind:
♭ Most pieces should be 16 measures or more but a few shorter pieces are ok, especially for beginner and early elementary.
♭ Mirror image and paired pieces count as one piece.
♭ Pieces that are purely technique exercises and pieces built from a single technical element.
♭ Pieces that can be fully mastered in fewer than ten repetitions.
Yes You Can!
If you finish one piece most weeks and two pieces every once in a while, you will be on track to complete 40 pieces in a year. Summer practice and/or summer lessons will make the goal much more attainable. Our most successful younger students have always completed 40+ pieces in a year!