All-Studio Recitals 2021-22 ♪ Essential Info for Students and Parents
Our Studio traditions
Before March 2020, we were pretty set in our ways! For many years, we offered an informal small-group recital each December and a formal large-group recital each June. We considered each of these events to be "required" for our youth students. And in addition, we offered an Honors Recital each April. For this event, we invited a limited number of students to participate, based on objective achievement/participation criteria. Since March 2020, we've been in a constant state of experimentation and reinvention as have tried to provide meaningful alternative performance opportunities for our students! On this page, we describe all our recital plans for the 2021-22 School Year.
---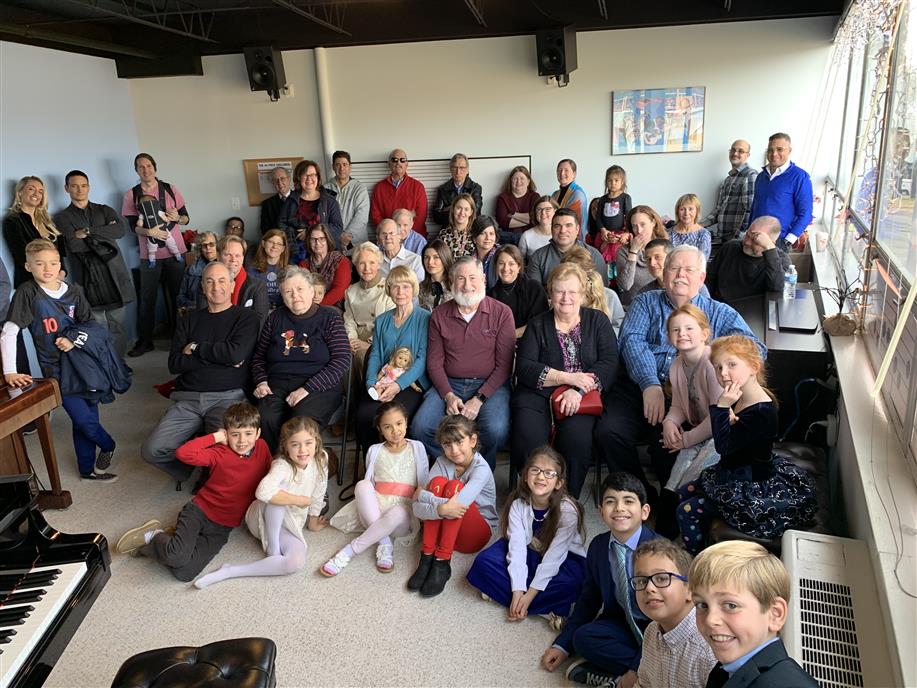 Studio Horowitz Winter Recital 2021 ♪ Sunday December 19
We hosted an in-person small-group recital at the Woman's Club of Arlington on Sunday, December 19, 2021.
Who will participate in our Winter Recital?
Participation is strongly encouraged for all youth age 6+ who began lessons in our Studio before August 1, 2021. Students who began lessons after August 1 and/or age 5 may participate with teacher recommendation. Adult students are also welcome.
Repertoire and rehearsal requirements
As in prior years, we will accept any piece or two pieces in any style or arrangement, so long as they are fully completed and memorized. New this year, youth students must perform their recital piece(s) from memory in a prior Workshop class or outside event.
Sign-up and scheduling
We'll schedule many short-short groups of approximately 12 families each. Students/parents will have the opportunity to request a time that fits your family schedule. We have invited current students to sign up with a simple Google form. If you are a current student and you didn't get the invitation, please contact us.
Our concept: flexible, festive, informal
It's become our tradition to host our Winter Recital in an "open house" format. We won't have a printed program and the program order is not announced in advance. We do ask our students to dress appropriately for a musical performance. We seek, simply, to gather together to enjoy live music, in person.
Guests
We welcome guests (your families, friends, grandparents, etc).
COVID safety
Masks will be required, there will be no food or drink allowed, and no one experiencing any symptoms of illness may attend. In addition, it's our expectation that all eligible individuals age 12+ become vaccinated against COVID-19 before choosing to join us in-person.
---
Studio Horowitz Honors Recital 2021-22 ♪ Saturday April 9, 2022
We hosted an in-person small-group Honors Recital at 2:00 PM on Saturday, April 9, 2022 at the Woman's Club of Arlington. The entire event lasted about 90 minutes and included a special performance of Beethoven's Sonata Op. 27 No. 1 by our own Winton Tin Vi La.
Our concept
We aim to reward students who are doing exemplary work...just because. Performing in the recital and receiving a certificate of participation are the only rewards.
What is the process for selecting students?
There is no application, no audition, and no fee. We invite students based on the following criteria:
♩performed two+ pieces in two+ workshop classes or outside events between September and January
♩intermediate or advanced level
♩nomination by the teacher
Invitations
Students who meet the above selection criteria have been invited by email to participate.
Confirmation
A couple weeks before the recital, we'll check in to make sure that the invited students have a completed and memorized piece ready to share!
Who can attend?
Our 2021-22 Honors Recital will be held in-person. We welcome not just performing students but also parents, siblings, grandparents, friends, and community. Our Honors Recital performances are an example of what is possible with faithful study!
Not selected?
Don't worry! We aim to celebrate the achievement of those students whose effort has resulted in the successful performance of challenging repertoire at a certain point in time. Those not selected far outnumber those who are. Everyone is encouraged to look forward to this event for possible participation in future years..and to discuss with your teacher how this event may fit in with your own learning, progress, and personal goals. And come join us anyway! You'll hear what you'll be playing next year...or the year after that!
Opting out
It is our hope that those students honored with selection will choose to attend because they value the reward: participation in a very special and relatively short recital! If this reward is not motivating to you, you may decline to participate.
---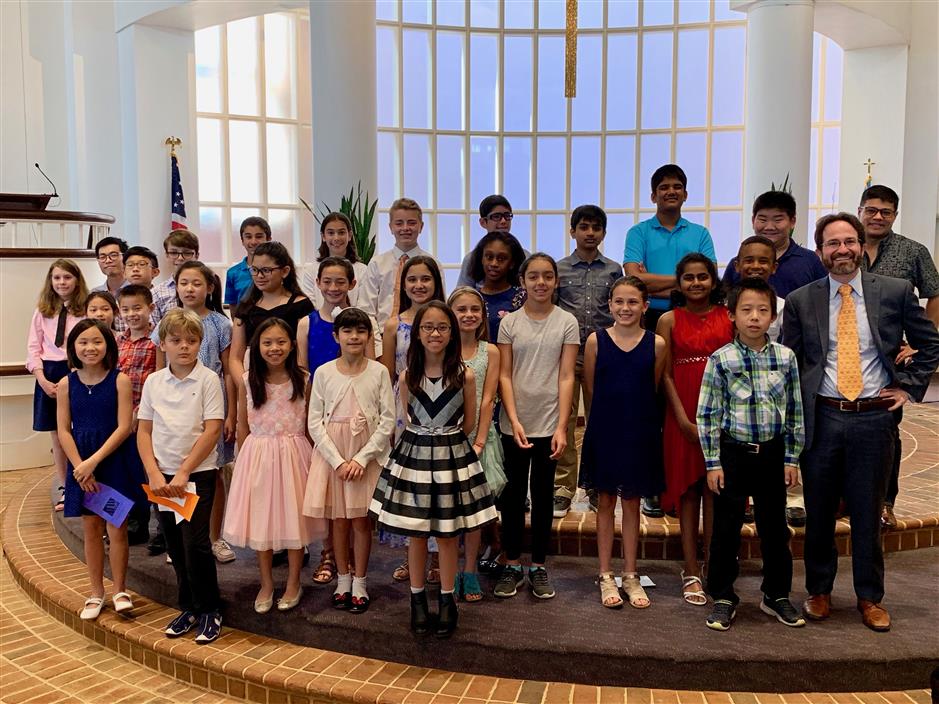 Studio Horowitz Summer Recital 2022
We return to our tradition of holding a large-group formal Summer Recital with a beautiful printed program.
Dates and details
Our 2022 Summer Recital will be held at Cherrydale United Methodist Church in Arlington on Saturday, June 11, 2022. Group start times are: 9:30 AM, 10:30 AM, Noon, 1:30 PM, and 3:30 PM. Enrolled students can see the age ranges and schedule of participating students in the Student Portal calendar.
Who will participate in our summer recital?
Participation is strongly encouraged for all youth age 6+ who began lessons in our Studio before January 1, 2022. Students who began lessons after January 1 and/or age 5 may participate with teacher's recommendation.
Eligibility
We want all students to participate! But we also want this event to be a meaningful and successful experience for each student, and for their audience. With this goal in mind, there is a new experience requirement this year: Students must have had at least one previous live performance, from memory, during the current school year. Most commonly, this would be at our Winter Recital or in a Workshop class. The previously-performed piece must be different from the summer recital piece(s).
Repertoire
We will accept any one piece or any two pieces at any level and of any style, so long as they are fully completed and memorized. If you choose to play two pieces, both piece must be of substantially equal quality and readiness. We encourage (but do not require) students to choose pieces in original form (that is, pieces originally composed as a piano solo). Multi-movement works are acceptable. Teachers will approve and supply all repertoire. Adult students may play from memory or with music.
Rehearsals
Participating students must play their Summer Recital piece(s) from memory in a prior Workshop class or in a special rehearsal. The last workshop classes take place the weekend of May 21, and sign-up is now available. Special rehearsals will take place at the Studio the weekend of June 4.
Sign-up
Our 2022 Summer Recital will be scheduled on an opt-in basis. Students/parents must sign up to participate. We will send an invitation to sign-up to all eligible students by early May. There is no fee; recitals are included with your regular tuition.
Guests
Our Summer Recital is a festive and fun celebration of our students' learning and achievement. You won't regret inviting guests. We warmly welcome non-performing students, siblings, parents, grandparents, and friends to join us.
Reception
At this time, we do not plan for a sweets reception, owing to continuing coronavirus precautious and uncertainty. We hope to return to this practice in 2023!