2021 Summer Recital Information
We are pleased to announce that our 2021 Summer Recital will be a live in-person outdoor event!
When?
Saturday, June 12, 2021
Where?
Berman Park shelter. That's the park right behind the Studio building at the corner of Kent and Ellison Streets.
What about the piano?
We'll move our Yamaha hybrid digital piano into the shelter. It has a digital sound but acoustic action and is suitable for performance at all levels.
What times?
We'll organize into multiple short performance groups. Each group will have about 15 students. We'll choose groups and times based on student sign-ups. We imagine the first group will start at 10:00 AM.
Rain or shine?
Yup! We'll keep to our schedule rain or shine, for the most part. If there is very heavy rain or thunderstorms, we will delay the affected group(s) or reschedule to later in the same day.
Who should participate?
Before 2020, we considered participation in our Summer Recital to be "required" for all continuing youth students who began lessons before January 1. This year, we're still asking that all continuing youth students participate, but we understand that the unusual situation may prevent us from achieving 100% participation. If you can't join us, we'll be sad! But we'll understand. We won't have a separate adult group but we warmly welcome adult students to join us alongside our youth.
Guests
We suggest limiting guests to one family group including a maximum of two adults. The park is small. We'll be video recording the recital, so it will be easy to later share with your family and friends who may not be able to join us on site.
COVID safety
We will be following all the usual rules. Full details will be on the sign-up form.
What can you play?
For our Summer 2021 Recital, we will accept any piece or any two pieces fully learned, completed, and memorized. Multi-movement works are acceptable.
Rehearsals
Participating students (except adults) must play their piece(s) from memory either in a Workshop class or in a special rehearsal. Workshop classes meet every weekend through May 23 and are now available for sign-up. Special rehearsals are available for sign-up the weekend of June 4-6. You can find both sign-ups right now from within the Student Portal (click Calendar). Even though the recital will be in-person, all workshops and special rehearsals will meet by Zoom. Please note that the rehearsal requirement is either/or: either a workshop class, or the special rehearsals June 4-6, not both.
Fees
Recitals have always been included within our regular tuition. There are no fees for either performers or audience.
How to sign up
We have a simple sign-up form which has already been emailed to all current students. If you need us to resend, just email Mr. Horowitz. The sign-up deadline will be May 31.
---
NOTE: The following information describes how we have organized our Summer recital in the past (2003 to 2019). We've left the old info online for you because we hope to return to a similar practice...someday. Procedures for 2021 are different (see above).
Who Will Participate in Our Recital?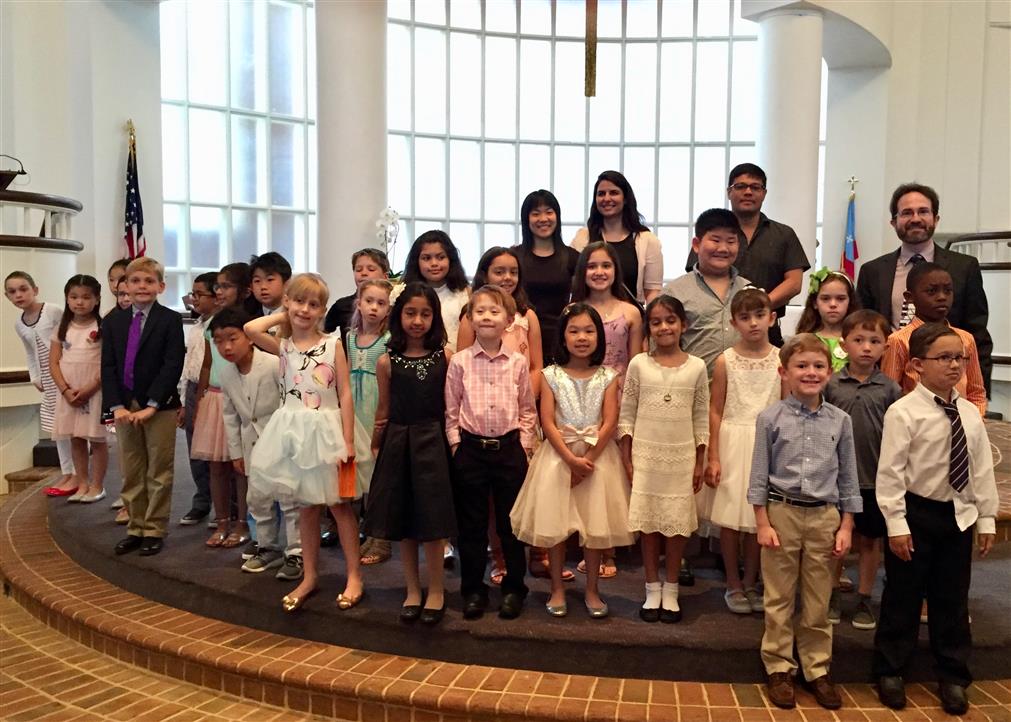 Participation is required for all youth age 6+ who began lessons before January 1, 2020. Students who began lessons after January 1 may participate with teacher's recommendation if space is available.
Where Is It? How Long Will It Last?
The recital will be divided into five groups by age, and these groups will perform on June 6th and 7th at The Falls Church Episcopal. Performance times are Sunday at 2:30 and 4:00 and Saturday at 3:00, 5:00, and 7:00. On Sunday, Bright Starts Classes and some students grades K-3 will play at 2:30; grades 1 through 4 will play at 4:00. On Saturday, grades 5 to 7 will play at 3:00; grades 6 to 8 will play at 5:00; high school will play at 7:00. All age groups are approximate and we schedule by assignment, not by sign-up. Time assignments will be posted at the Studio before March 1 and also emailed to parents.
Are There Any Rehearsals?
There are required rehearsals for all students except Bright Starts classes. Rehearsals will be at the Studio in Falls Church May 29, 30, and 31. Rehearsals are scheduled by online sign-up. (Find the sign-up from For Our Students in the menu.) Students playing duets must attend a rehearsal together with their partner(s). Students must perform their recital piece(s) from memory at a rehearsal in order to perform in the recital.
Time Change Requests
We carefully group the recital by age and level. Limited opportunities for time changes may be possible up until May 15. If you need a time change, please ask as soon as you are aware of the need. Your understanding that not all requests can be accommodated is appreciated.
Who Can Come?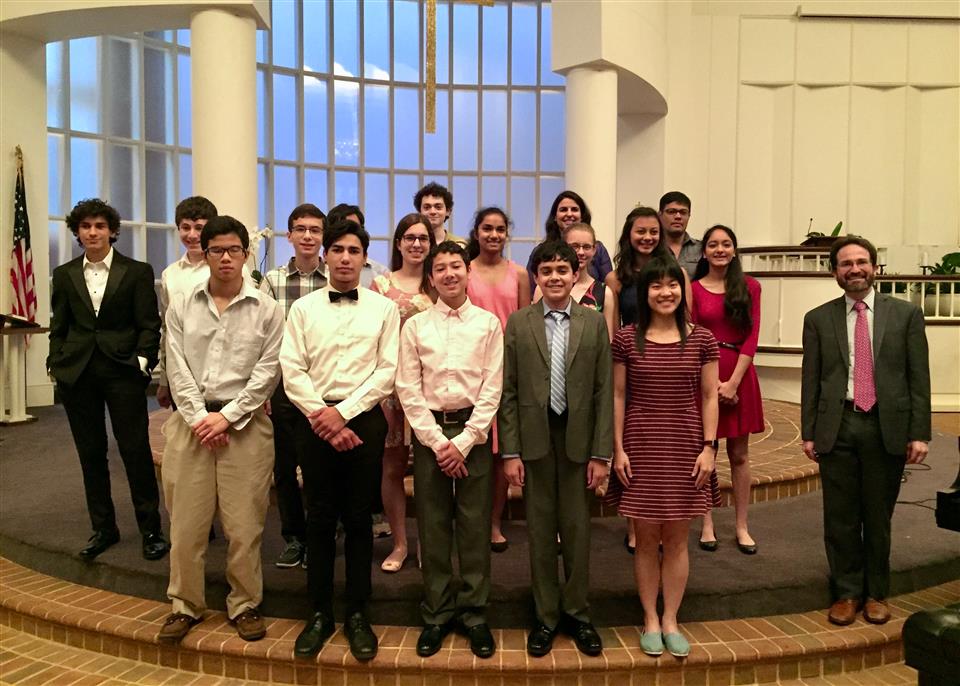 Everyone is invited and encouraged to attend. Parents, siblings, grandparents, and friends are all welcome. You won't regret inviting guests.
What's the Point?
We have a recital as the culminating event in our year of study.
We experience performing as opposed to just practicing.
We share music with our parents, family, and friends.
We learn confidence and independence as each of us presents music without help or prompting.
We engage in teamwork and create an event that is more meaningful than just the sum of its individual performances.
We put on a good show and enjoy the satisfaction that comes from presenting a performance that is complete and enjoyable in its entirety.
---
Repertoire Selection Guidelines
Your Solo Piece
Most students will play one solo piece from memory. Because we want the recital to be a positive experience for both our performers and their audience, we require that all pieces be fully memorized and fully ready for performance at the required rehearsal. Students who choose to fully prepare two pieces may play both pieces. Our youngest students who may not be comfortable performing solo may instead play a duet with an older student playing the "teacher accompaniment."
Your Duet
Some students will also play a duet with music. Duets will be performed either with a student of similar ability or with an older student playing the teacher's accompaniment part. Duets are optional but encouraged. Please discuss with your teacher whether it would be a good idea for you to play a duet, and if so, what duets might be suitable.
You Can Choose to Play Most Anything That Is in Its Original Form...
That is, something originally written for piano solo.* Jazz-style pieces are welcome if they are in original form. There are no requirements regarding level, length, or difficulty. But whatever you play should present well to the audience and should make you proud of your accomplishment!
What Can You NOT Play in Our Recital?
Nothing that was performed at our 2018 or 2019 recitals, and nothing that someone else is playing at the 2020 recital. (First come, first served once your teacher puts it in the database.) No arrangements of movie, musicals, or pop songs; no simplified classics or arrangements of orchestral works. *The following are acceptable: concert transcriptions; composer-initiated arrangements; elementary folk-song arrangements; authentic jazz standards. To encourage educational progress, we discourage you from choosing music that's too old (typically we aim to start recital pieces after January 1st) or too easy (pieces that can be learned in two weeks or less). We will also avoid pieces that are too difficult for you to achieve a complete performance. Presenting your best means you aren't stumbling through something that's too challenging.
It's the Teacher's Job to Help You Choose
Your teacher will happily welcome your questions and requests! Now is the time to plan for a successful and enjoyable recital!
---
2020 Winter Recital Information
The following information applies only to our 2020 Winter Recital, which was adapted due to the coronavirus situation. We've left the info up here for you in case you are interested! Our 2021 Winter Recital will probably be different, and this information will be updated before October 2021.
For ten years, we've gathered together in our little Studio on the first or second Sunday of December for a festive and informal Open House and Mini-Recital. Due to the coronavirus situation, that won't be possible this year. Instead, we will offer alternate remote programming. It won't be the same...but it will still give us the chance to gather, virtually, to enjoy student performances. And it will still give students the opportunity to present their best in a live (not recorded) event.
When?
All performance groups will take place on just one day! Sunday, December 13, 2020.
Tech formats
We offer two different participation formats: Zoom and YouTube Live. We encourage all students to consider participating in the YouTube Live recital because we think we will be able to present a more meaningful and dignified event that respects the hard work of our students and gives them a chance to show their very best performances. We welcome all ages to the YouTube Live recital but especially hope our older and more advanced students will choose this format. [The deadline for opting in to the YouTube Live groups has already passed.]
How will it be scheduled?
YouTube Live groups have been scheduled be assignment, and the schedule has been sent to all students who chose the YouTube Live option. Zoom groups are scheduled by flexible sign-up and the sign-up is now available for you in the Student Portal. Zoom groups begin at 11AM, Noon, 1PM, 2PM, and 7PM. YouTube Live groups begin at 3PM, 4PM, 5PM, and 6PM.
Who should participate?
As in prior years, we consider participation to be required for nearly all youth students. That's everyone who began lessons in our Studio before August 1, 2020. Participation is optional only for ages 19+ and for those who first joined us in September or later.
What can I play?
Any piece(s) fully completed and memorized are acceptable for this event! Students are welcome and encouraged to play one piece, or two pieces. All musical styles are welcome.
About Zoom
Zoom works with any device. Only our Studio families and the guests that our families choose to invite will be able to join.
About YouTube Live
Streaming software will capture your performance and then broadcast it live to the Studio's YouTube channel. The live broadcast will be accessible to anyone who visits the Studio YouTube channel while the recital is live. YouTube Live groups will be recorded. Once all recital groups finish, access for the recorded videos will be changed to Unlisted. Studio families will receive links to the Unlisted video recordings.
Which format to choose?
YouTube Live offers the promise of better audio quality than Zoom. The broadcast format will also allow for a more polished and professional presentation for your performances. All students who are invested in sharing their best work with others are encouraged to choose YouTube Live. Zoom offers greater privacy for your performance, easy click-and-join participation with no extra tech procedures, and it works with any device with minimal or no set up.
Inviting your audience
For the YouTube Live recital, your friends and family can easily join the broadcast simply by visiting the Studio Horowitz YouTube page. For the Zoom recital, guests are welcome. Students will be provided with a link that may be shared with your friends and family. Only those with the link will be able to join.
Would you like to perform from the Studio?
Most students will perform from home. But we are able to host a small number of students who wish to perform at the Studio (YouTube Live groups only). There will be no audience at the Studio. Health rules will be followed. We must be prepared for the possibility that future changes to health department guidelines could require us to cancel this option.
Zoom tech and rehearsal info
However you set up and connect for your lesson will work just fine. There is no required rehearsal.
YouTube Live tech and rehearsal info
♪ Quality laptop (required)
♪ Headphones (required)
♪ Tech and room set-up in advance (we'll give you a simple checklist to go through)
♪ A rehearsal and tech check appointment with both student and parent present (required)
♪ An ethernet connection is recommended
♪ A USB condenser microphone is strongly recommended
Set up for success!
Whether you will join us for Zoom or YouTube Live, we hope you will set up for a polished appearance that respects your audience!
♪ Choose a video angle that allows us to see your face, hands, and piano keyboard
♪ Dress for the occasion!
♪ Close drapes and adjust lighting so that your light sources are coming from above and/or behind the camera. Imagine you are on a stage and the camera is in the front row of an auditorium.
♪ Turn of televisions, dishwashers, beeping smoke detectors, fans, and anything else that will detract from your performance