Honoring our Studio Stars 2019
Monday, October 7, 2019 | Student Awards & Honors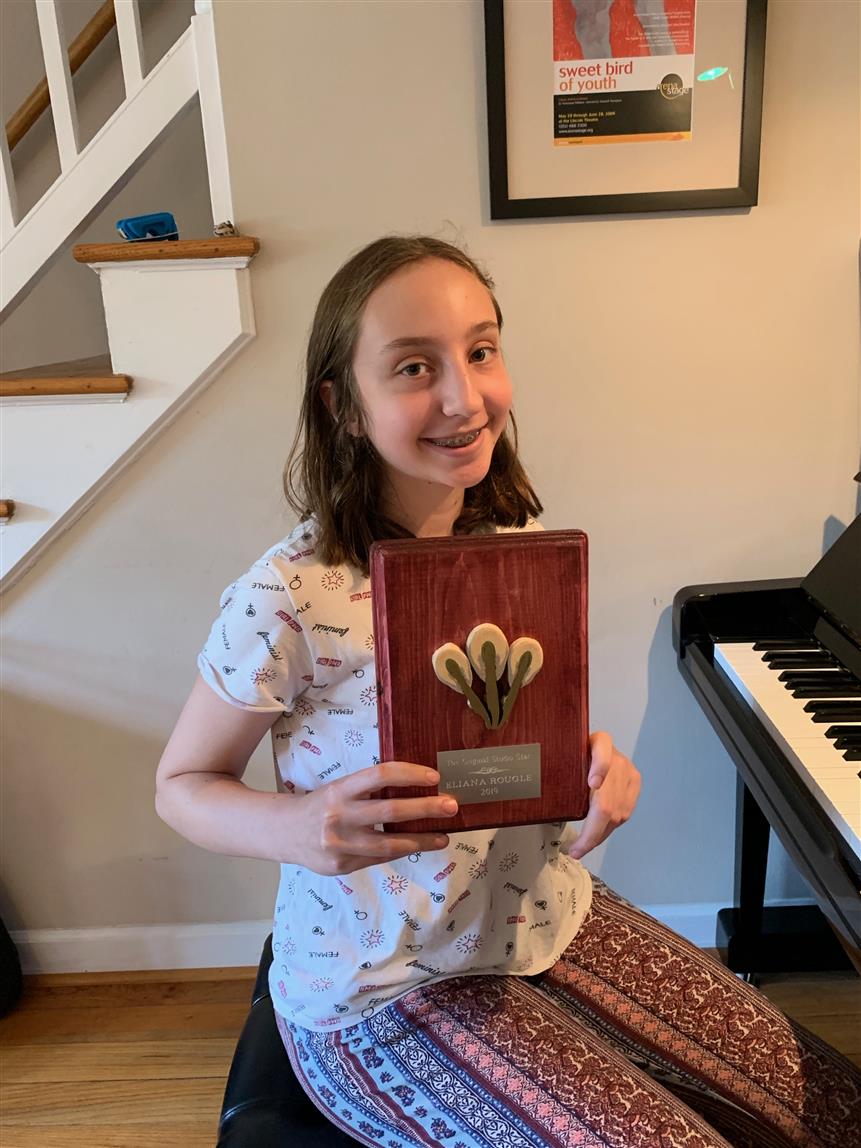 A handful of students have earned our in-house Studio Award, which we call the Studio Star. TThe following students went the extra mile by completing a broad checklist of tasks and activities and have earned THE ORIGINAL STUDIO STAR!
Karthik Thyagarajan and Alex Xu (Year 1), Vihaan Mathur and Anne Severino (Year 2).
And a special congratulations to Eliana Rougle who completed the checklist for the fourth and final year and earned a unique-in-the-world handmade plaque commemorating her achievement!
Additional category awards went to: Karthik Thyagarajan, Priya Perakam, and Owen Rollins (Most Workshop Performances) and to Eliana Rougle and Noah Tennenbaum (Performance Achievement*).
We would so enjoy the opportunity to recognize more students next year! Check out the short info sheet and see the different award categories via "For Our Students" in the menu.
*Performance Achievement award is available to students earning honors or awards in four+ outside events. (WOW!)
Some of our Current Openings
Monday, October 7, 2019 | News
Our school-year schedule started September 3 and while most "prime times" slots are currently full, a few openings remain, which we have listed below. For your convenience, we post updated openings to this space on occasion. But we always welcome your inquiries, regardless of what today's openings may be. Contact us! We'd love to talk more about your specific and individual needs.
♩ Weekday early/mid-afternoon starting at/before 3:30: For adults, home-school, and those with daytime flexibility, we welcome you and we have several possibilities for placements Monday through Friday.
♩ Evenings around 8:00 PM: For adults, high-school, and night owls: we have space for a later evening lesson on Tuesdays and Fridays.
♩ Saturdays: We have just a few slots left including early morning (around 8:30) and midday (around 11:00 AM and 2:00 PM).
♩ Weekday mornings: Valerio Pajon offers times to schedule on Fridays and Mondays between 8:30 AM and 11:00 AM.
𝅗𝅥 When can we start? All of our openings above are be available for you to start lessons today. However, we can also consider a January start date depending on your individual needs.
Bright Starts Beginner Classes Mostly Full
Monday, October 7, 2019 | News
Our unusual group-based beginner program, which we call Bright Starts, is off and running for the 2019-20 school year! Read more about the program via Our Programs in the menu.
Most classes are full or nearly full but we always welcome inquiries. Students may transfer into an existing class at any time, pending availability and a good age/level fit.
Level 1 classes started from September 15, 2019. Level 2/3 classes started from September 3. Transfer students will be accepted into the Level 1 and 2 classes until mid-March 2020. Transfers accepted into the level 3 class until January 2020.
Have questions? Call us! We're happy to talk about your individual needs and about all our programs.
♪ Level 1 ♩ Saturdays 9:30 to 10:25 ♩ Ages 5 to 8 ♩ Instructor: Horowitz ♩ May be full, waitlist is available
♪ Level 1 ♩ Wednesdays 5:00 to 5:55 ♩ Ages 6 to 8 ♩ Instructor: Horowitz ♩ May be full, waitlist is available
♪ Level 2 ♩ Saturdays 10:30 to 11:40 ♩ Ages 6 to 9 ♩ Instructor: Horowitz ♩ May be full, waitlist is available
♪ Level 3 ♩ Saturdays 11:45 to 12:55 ♩ Ages 7 to 10 ♩ Instructor: Horowitz ♩ Two spaces remain!
Level 2 and 3 classes include access to optional supplementary individual lessons (weekly or bi-weekly) at a reduced cost.