Summer Recital Report 2020
Sunday, July 26, 2020 | News
We were not able to host our usual Summer Recital due to the coronavirus situation but we made alternate plans to celebrate and demonstrate the achievement of our students! Bright Starts (group beginners) participated in a live online recital using Zoom on June 6. We were joined by nearly 40 students and parents and families members from all over the world. Our individual-lesson students participated in a YouTube virtual recital and we received nearly 90 different video submissions from our students. We've prepared a YouTube playlist with a selection of 20 videos representing a variety of ages and levels as well as our teacher-introduction video. If you're interested in what we do, check it out!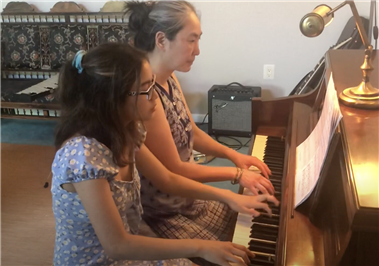 Student Honors: 2020 NVMTA Sonata Festival
Thursday, July 9, 2020 | Student Awards and Honors
Congratulations to Aruni Veluri and Philip Wang, who both earned the competitive award of "Honors" in the Sonata Festival hosted by Northern Virginia Music Teachers Association (NVMTA). This year, the coronavirus situation forced the usual in-person Festival to move online. It's great to see so many students overcoming the challenge of remote participation by preparing and presenting polished performances.