Student Honors: NVMTA Achievement Awards & WMTA Hartman Awards
Wednesday, May 15, 2019 | Student Awards and Honors
Congratulations to our student Noah Tennenbaum who received Honorable Mention in the Achievement Awards contest run by Northern Virginia Music Teachers Association on May 4, 2019. In this demanding event, students perform three pieces and receive written comments from three notable judges. Noah performed Prelude and Fugue in D Major WTC 2 (J.S. Bach), Sonata in D Major Op. 10 No. 3 (Beethoven) and Gargoyle No. 3 (Lowell Lieberman).
The following weekend, Noah earned the same award in the Hartman Awards contest run by Washington (DC) Music Teachers Association on May 12, 2019.
Student Honors: Studio Honors Recital 2019
Wednesday, May 1, 2019 | Student Awards and Honors
Seventeen students joined us and performed in our annual Honors Recital, held at the Studio on April 27, 2019. In addition to our performing youth, we were also treated to our teacher Winton Tin Vi La performing Mozart and Ravel. To learn more about our Honors Recital and how we select students for participation, find the info sheet via For Our Students in the menu.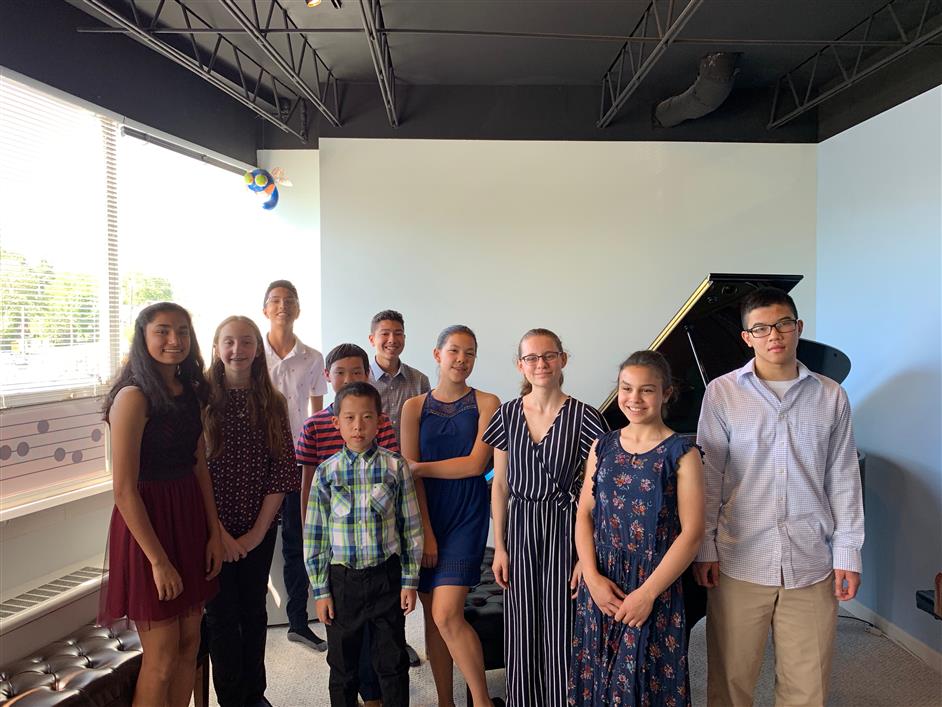 Congratulations to our performing students:
Morgan Atkinson (Prelude and Fugue in B-flat Major, BWV 866, J.S. Bach), Jeffery Chen (Reverie in f minor, Denis Alexander; Macedonian Mountain DanceAlan Hovaness), Eli Lang (Golliwogg's Cake Walk, Claude Debussy) , Vihaan Mathur (Intermezzo in D-flat Major, Carolyn Setliff), Katrina Nelson (Gigue from Partita in B-flat Major BWV 825, J. S. Bach), Brandon Pak (Ballade, Op. 100 No. 15, Freidrich Burgmuller), Erin Pak (Minuet in G Major, J. S. Bach), Ai-lan Pho (Sonatina in C Major, Op. 36 No. 3: Allegretto, Muzio Clementi; New Kid on the Block, Jennifer Ecklund), Eliana Rougle (Nocturne in f minor Op. 55 No. 1, Frederic Chopin), Anne Severino (Bourbon Street Beat, Eugenie Rocherolle), Shreya Singh (An Elfin Round, Edward MacDowell), Noah Tennenbaum (Sonata in D Major, Op. 10 No. 3: Presto, Ludwig van Beethoven), Evan Thorn (Medieval Fair, Nancy Faber; Sarabande, William Gillock), Karthik Thyagarajan (Tarentlla, Albert Pieczonka), Alex White (Dream Shadows, William Bolcom), Alex Xu (Elite Syncopations, Scott Joplin), Angelina Yoha (Midwinter Nocturne, Gina Sprunger).