Current Openings
Thursday, April 28, 2022 | News
CURRENT OPENINGS & PLANS FOR NEXT SCHOOL YEAR We accept new students year-round, subject to availability. We are now in a period of transition as our old school-year ends June 19 and we have begun planning for our new school year, which starts August 27. The priority registration deadline for returning students is June 1, and we process registrations from new students/families starting June 2. We're open all summer on a flexible sign-up schedule.
IF YOU ARE LOOKING TO BEGIN LESSONS... Once our new school-year schedule is set in mid-June, we will post remaining openings to this space. But if you're interested in lessons in our Studio, don't wait for that to happen! The best way to find out about openings is to just get in touch, now! Regardless of what today's openings are...we always want to hear from interested students/parents in the community. Sometimes, we have flexibility which goes beyond what we can post here. Contact us! We'd love to hear from you.
REMOTE/IN-PERSON In nearly all cases, we are able to teach in-person in our beautiful studio. A few students may choose remote lessons or a mix of remote and in-person instruction.
AGES/LEVELS All our openings are available for all ages and levels.
Student Honors: 2022 Studio Honors Recital
Monday, April 18, 2022 | Student Awards and Honors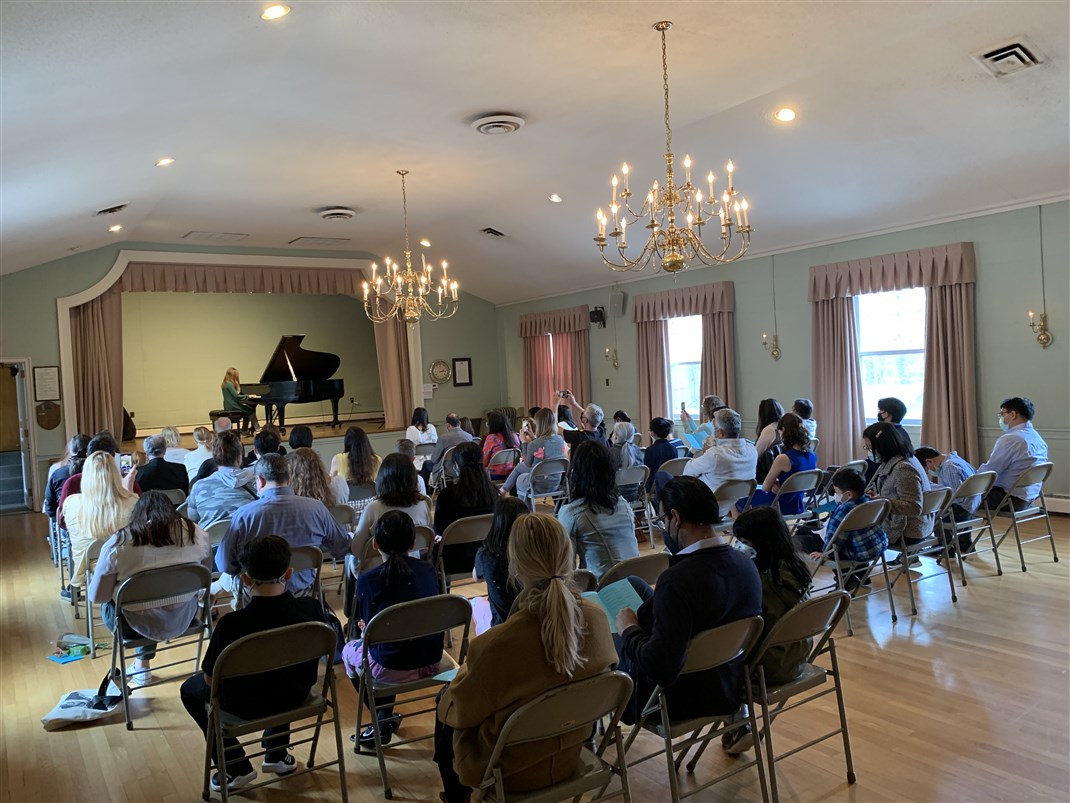 On April 9, 2022, we gathered at the Woman's Club of Arlington for our annual Honors Recital. We also enjoyed a special faculty performance of Beethoven's Sonata Op. 27 No. 1 by Winton Tin Vi La. Learn more about our Honors Recital via pianowitz.com/for-our-students. Congratulations and thank you to the following students who were invited and chose to join us:
Alexa Garica ♪ Aiden Lu ♪ Keshavan Nair ♪ Gizem Onerci Ai-Lan Pho ♪ Hong-Duc Pho ♪ Katie Rasmussen ♪ Eliana Rougle ♪ Pelin Sarac ♪ Lucia Severino ♪ Anastasia Vasillopolous ♪ Aruni Veluri ♪ Hannah Wang ♪ James Yao
Student Honors: Studio Master Class April 2022
Monday, April 4, 2022 | Student Awards and Honors
On Saturday April 2 we were lucky to have Jocelyn Swigger of Gettysburg College join us in our Studio as the guest artist for our first in-person master class in over two years. Congratulations to the students who joined us by performing in this challenging yet rewarding environment:
Noa Herzog (Wild Honeysuckle Rag, Meir) ♪ Pelin Sarac (Wayside Inn from Waldenszenen, Schumann) ♪ Noah Tennenbaum (Basso Ostinato, Shchedrin) ♪ Varun Veluri (Sonata Op. 13 "Pathetique", Beethoven) ♪ Hannah Wang (Sonatina in C Major Op. 36 No. 3, Clementi) ♪ James Yao (Little Preludes in E Major and F Major, J.S. Bach)